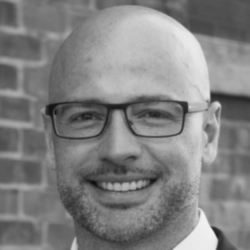 Tyson earned his BSc degree at the University of Guelph, where he was also an award-winning varsity student-athlete. At Guelph, Tyson completed advanced-level coursework in the anatomical, mechanical, physiological, and neural bases of human movement. He later earned his MSc and PhD degrees under the mentorship of world-leading musculoskeletal biomechanics and physical ergonomics researchers at the University of Waterloo. At Waterloo, his studies focused on quantitative motion analyses, prevention of work-related musculoskeletal disorders, and advancing fundamental knowledge of spinal mechanics, control, and injury causation. Tyson was a President's Scholarship winner at Guelph, and a Natural Sciences and Engineering Research Council Canada Graduate Scholarship winner at Waterloo.
Tyson is currently an Assistant Professor at the University of Toronto, where he is appointed in the Faculty of Kinesiology and Physical Education. He also holds an Adjunct Faculty appointment in the Department of Research at the Canadian Memorial Chiropractic College, where he advises on the research done by Sports Sciences Residents. At the University of Toronto, he teaches undergraduate- and graduate-level courses in biomechanics, and directs research conducted in the Musculoskeletal Biomechanics and Injury Prevention and Sports Medicine Research Laboratories. His research team focuses on devising movement assessment and (re)training strategies for the prevention of occupational and athletic musculoskeletal injuries.
In addition to his academic work, Tyson was a Certified Kinesiologist for more than 10 years, and practiced widely as a strength and conditioning coach, personal trainer, and ergonomics consultant. He currently advises government and private organizations in the areas of injury prevention and applied sport/exercise sciences, and serves as a scientific and technical consultant to several start-up companies in the Greater Toronto Area.